NEW HAPPENINGS:

IMPORTANT 2020 TOURNAMENT NEWS UPDATE

King's 2020 Karate Tournament- Postponed until Sunday October 18, 2020

Several schools and individuals have reached out, however I wanted to make sure everyone was aware that due to the current circumstances in our Country, we have postponed our tournament until Sunday October 18, 2020. As we get closer to the event, I will send out a reminder notice however the current applications that you had for the March 29th date will still be used for the new tournament date. I will be contacting the people who sent me their pre-registrations to see if they want their registration and money returned or if they want me to register them for the new October date. Questions please reach out to me at 973.670.4619. Our thoughts and prayers are with everyone. Stay safe and healthy!

********************************************************************

DATE March 29, 2020

Doors Open at 8:30 AM

Black Belt Meeting 10:30 AM

Tournament starts 11:00 AM SHARP

Location:

Newton High School 44 Ryerson Avenue Newton, NJ 07860


**Please note change in location from last year. Better spectator bleacher seating at High School.


Registration forms can be e-mailed to you. Contact: kusanku8@ptd.net or go to King's Isshin-Ryu Karate Club's Facebook page to click on the links to print registration documents.

Pre-Registration: Must be Postmarked by March 25, 2020


**AI member discount of $5 applies to Pre-Registration only

Snow Date: April 5, 2020


1 Event $40 2 Events $45 3 Events $50

At the Door: 1 Event or 2 Events $55, 3 Events $60, Spectators $8.00


Mail Registration forms and checks to:

King's Isshin-Ryu Karate Club

P.O. Box 335 Newton, NJ, 07860


Questions, please contact Doug King at 973.670.4619

**************************************************************

2019 TOURNAMENT NEWS

***MARCH 24, 2019 - KING'S ISSHIN-RYU ANNUAL KARATE TOURNMENT***

DOORS OPEN AT 8:30, BLACK BELT MEETING AT 10:30 AND TOURNAMENT STARTS PROMPLY AT 11:00 AM

LOCATION: MERRIAM AVENUE ELEMENTARY SCHOOL

ADDRESS: 81 MERRIAN AVE., NEWTON, NEW JERSEY 07860

REGISTRATION FORMS CAN BE E-MAILED TO YOU: CONTACT kusanku8@ptd.net or click on the following link to print forms: https://phoenixmartialartssociety.com/PDF/KingTournament2019.pdf

MAIL TO: KING'S ISSHIN-RYE KARATE CLUB

PO BOX 335, NEWTON, NEW JERSEY 07860

***SNOW DATE IS: MARCH 31, 2019***

*******************

PRE-REGISTRATION MUST BE POSTMARKED BY MARCH 21, 2019**

1 EVENT: $40 2 EVENTS: $45 3 EVENTS: $50

SPECTATORS: $8.00

AT DOOR: 1 OR 2 EVENTS: $55 3 EVENTS: $60

QUESTIONS: CONTACT DOUG KING AT 973-670-4619

**AI MEMBER DISCOUNT OF $5.00 APPIES TO PRE-REGISTRATION ONLY

*****************************************************************

PAST NEWS AND EVENTS:

OUR SHIAI WILL BE HELD AT THE DOJO, ON SATURDAY NOVEMBER 15TH FROM 8:30-11:30. SENSEI KING WILL BE MAKING ANNOUNCEMENTS DURING CLASSES REGARDING SPECIFICS. SEVERAL STUDENTS WILL BE TESTED DURING THIS EVENT. WE LOOK FORWARD TO A GREAT DAY. IT IS A WONDERFUL OPPORTUNITY TO SHOW OFF WHAT YOU HAVE LEARNED AND YOUR SKILL FOR YOUR FAMILY, FRIENDS AND FELLOW KARATE PEERS.

LOOKING FORWARD, INTO 2015, WILL BRING OUR ANNUAL TOURNAMENT IN MARCH AND OUR ANNUAL CAMP EVENT IN JUNE.

OUR DOJO'S ANNUAL KUMITE TOURNAMENT WILL BE HELD IN MARCH AS USUAL OF 2015, AT NEWTON HIGH SCHOOL, 44 RYERSON AVE. NEWTON, NJ, 07860. DOORS WILL OPEN TO THE PUBLIC at 8:30 am, BLACK BELT MEETING AT 10:30 AND TOURNAMENT BOW IN START TIME WILL COMMENCE AT 11:00 AM. OUR USUAL 8FT. TROPHY FOR BLACK BELT FINALIST. REGISTRATION FORMS AND/OR QUESTIONS; SHOULD BE DIRECTED TO SENSEI DOUG KING AT 973-670-4619 AS TIME GETS CLOSER TO THE EVENT.

MORE INFORMATION WILL BE FORTHCOMING IN THE WEEKS AND MONTHS AHEAD.

**********************************************************

KING'S ANNUAL KARATE TOURNAMENT-MARCH 10, 2014

IT WAS EXCITING FOR OUR SCHOOL THIS PAST TOURNAMENT, AS WE HAD A FULL TOURNAMENT, NOT JUST KUMITE AS IT HAS BEEN IN PAST YEARS. THERE WAS KATA, WEAPONS AND KUMITE. WE HAD A GREAT DAY AND FEEL IT WAS A HUGE SUCCESS. THANKS TO ALL WHO CAME OUT TO SUPPORT US. WE ARE LOOKING FORWARD TO 2015.

AI MEMBERS RECEIVED A $5.00 DISCOUNT FOR PRE-REGISTRATION AND AT THE DOOR. AS A NOTE, HOWEVER, EVERYONE WAS REMINDED TO PUT THEIR AI MEMBERSHIP NUMBER ON THEIR PRE-REGISTRATION FORM AND MOST IMPORTANTLY, TO BRING THEIR AI CARD FOR PROOF OF MEMBERSHIP IF THEY WERE REGISTERING AT THE DOOR THE DAY OF THE TOURNAMENT AS WE WERE NOT ABLE TO APPLY THE DISCOUNT WITHOUT IT.

*******************************************************

**2012 ANNUAL CAMP EVENT**

OUR ANNUAL KARATE CAMP WAS HELD ON SATURDAY, JUNE 30TH.

SENSEI BILL SHANK WAS ABLE TO JOIN US FOR OUR CAMP EVENT, AND RAN OUR FIRST 2 HR. SESSION.

WE ALL WANTED TO SEND OUR BEST WISHES AND CONGRATULATIONS TO SENSEI SHANK, AS HE WAS RECENTLY PROMOTED TO 9TH DEGREE BLACK BELT.

ADDITIONALLY TO HAVING MR. SHANK JOIN US, WE WERE ALSO EXCITED TO SEE SENSEI KING'S AFFILIATE SCHOOLS FROM PENNSYLVANIA, NEW YORK AND VIRGINIA.

WE HAD A GREAT CAMP EVENT THIS PAST YEAR. WE HAD MANY STUDENTS TESTING FOR BLACK BELT AS WELL AS OTHER VARIOUS DIFFERENT RANKS. ALONG WITH OUR ANNUAL KUMITE TOURNAMENT IN MARCH, THIS DAY IS A PREMIER EVENT FOR OUR SCHOOL...AND WE WILL ALL FOLLOW SENSEI KING'S FAMOUS PHRASE..."WORK HARD, PLAY HARD"...SEE BELOW FOR OUR RECENT YEARS BLACK BELT PROMOTIONS.

*********************************************************

EVEN THOUGH WE HAVE OFFICIALLY ENDED OUR DOJO CLOTHING SALE...ANYONE WANTING TO STILL PLACE AN ORDER FOR ITEMS SHOULD PLEASE CONTACT DOUG KING OR VALERIE MARTIN TO PLACE AN INDIVIDUAL ORDER.

*********************************************************

Our American Isshin Ryu Seminar was held Oct 8th, 2011, at the Dojo from 12 - 3. We were honored with Sensei Don Nash (9th Degree Black Belt) & Sensei John Pinghero (9th Degree Black Belt). Together these 2 Sensei brought a wealth of knowledge and we learned many new things. I encourage all of you to join the AI organization. Please contact me for information if you wish to learn more or become a member. You receive discounts on events/tournaments, and you will find very quickly that your membership pays for itself in a very short period of time. I will have applications for you to complete if you are interested.

Also back in October, students from our Dojo attended a great seminar in Carlisle, PA., presented by Sensei Bill Shank. We worked self-defense and weapons along with some of Sensei Shank's students. Many thanks to Sensei Shank for his time and extertise. We had a great day. We love weapons! They are an essential part of our Isshin Ryu training and style. We ended the day with a great dinner with good food and company.

*********************************************************

****KING'S ANNUAL SHIAI WAS HELD THE 19th OF NOVEMBER, 2011 AT THE DOJO. ****

*********************************************************

King's Annual Kumite Tournament of 2011 was held in March.

Congratulations to all our participants. You are all winners. A very Special Congratulations to our Grand Champion, Ryan Beebe, from East West Dojo under Sensei Scott Klinger.

Below is a picture of our Trophies that were awarded at our Tournament. The larger figure was the First Place Trophy for all divisions. The Bobble Head Trophies were awarded for 2nd - 4th place in all divisions up to age 16. Medals were awarded for all divisions age 17 and older for 2nd - 4th. Black Belt Division First Place winners were eligible to compete for Grand Champion's 8 foot trophy which was taken home this year by Ryan Beebe.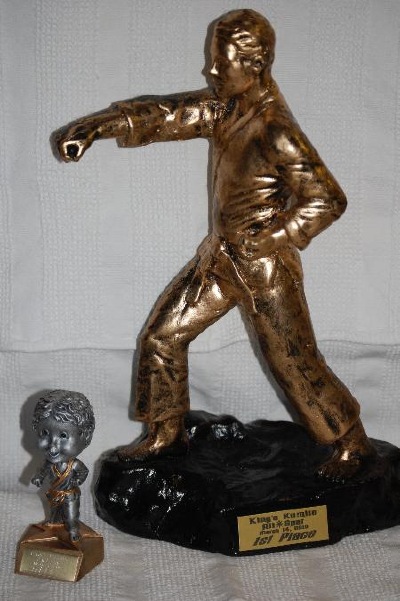 *******************************************************

**CLASSES ARE CURRENTLY OPERATING ON THEIR NORMAL SCHEDULE** IN THE EVENT OF CANCELLATIONS/CLOSINGS, WE WILL ATTEMPT TO POST HERE. IF YOU HAVE SIGNED UP FOR E-MAIL NOTIFICATIONS FOR CLASS CANCELLATIONS, PLEASE MAKE SURE YOU CHECK YOUR E-MAIL BEFORE HEADING OUT TO CLASS IF THE WEATHER IS QUESTIONABLE. ADDITIONALLY, PLEASE MAKE SURE THAT SENSEI HAS YOUR MOST CURRENT E-MAIL INFORMATION ON FILE***

******************************************************

2009 BLACK BELT PROMOTIONS:

CONGRATUATIONS TO THE FOLLOWING STUDENTS:

SCOTT KING - ROKO DAN (6TH DEGREE BLACK BELT)

VALERIE MARTIN - SAN DAN (3RD DEGREE BLACK BELT)

JEANA STRITTER - NI DAN (2ND DEGREE BLACK BELT)

JESSICA PAVLICK - SHO DAN (1ST DEGREE BLACK BELT)

TYLER MARTIN - JR. SHO DAN

AVI SHAH - JR. SHO DAN

GUS PROTOGEREPOULES - JR. SHO DAN

******************************************************

2010 BLACK BELT PROMOTIONS:

WILLIAM START - GO DAN (5th DEGREE BLACK BELT)

CHARLES AGENS - GO DAN (5TH DEGREE BLACK BELT)

DAVID PICCIONI - GO DAN (5TH DEGREE BLACK BELT)

FRANK BIBER - YAN DAN (4TH DEGREE BLACK BELT)

******************************************************

2011 BLACK BELT PROMOTIONS:

DAVE ENGH - YAN DAN (4TH DEGREE BLACK BELT)

ZACK BIEMESDERFER - JR. SHO DAN

******************************************************

2012 BLACK BELT PROMOTIONS:

TYLER MARTIN - SHO DAN

ZACK BIEMESDERFER - SHO DAN

MIKE SKI - SHO DAN

BILL MACKERLY - SHO DAN

VALERIE MARTIN - YAN DAN (4TH DEGREE)

JUSTIN WEAVER - GO DAN (5TH DEGREE)

BRIAN RUPP - GO DAN (5TH DEGREE)

HARRY RUDIO - ROKO DAN (6TH DEGREE)

MIKE CAPPADONA - ROKO DAN (6TH DEGREE)

********************************************************

2013 BLACK BELT PROMOTIONS:

********************************************************

2014 BLACK BELT PROMOTIONS:

********************************************************

TBT: Dans...Justin Weaver (4th) and Tori Martin (2nd) after an Annual Camp Event